If you're a researcher in Austria, you may have heard of the prestigious START Grant. Run by the Austrian Science Fund or FWF, the grant is awarded each year to a handful of post-doctoral researchers carrying out groundbreaking projects in their field. In 2022, one of those researchers was William Barton, a classical philologist currently based at the Ludwig Boltzmann Institute for Neo-Latin Studies in Innsbruck. William will carry out the project at the University of Innsbruck's Institute for Classical Philology and Neo-Latin Studies.
William will use the funding to transcribe, translate and study the secret diary of Karl Benedikt Hase: a lively and rather infamous professor of Greek philology in the 19th century. By creating a digital version of the diary with Transkribus, William and his team hope to discover new information about both Hase's life and the lives of other Philhellenes in the early 1800s. We sat down with William to find out more about this award-winning project and learn about his experience with Transkribus.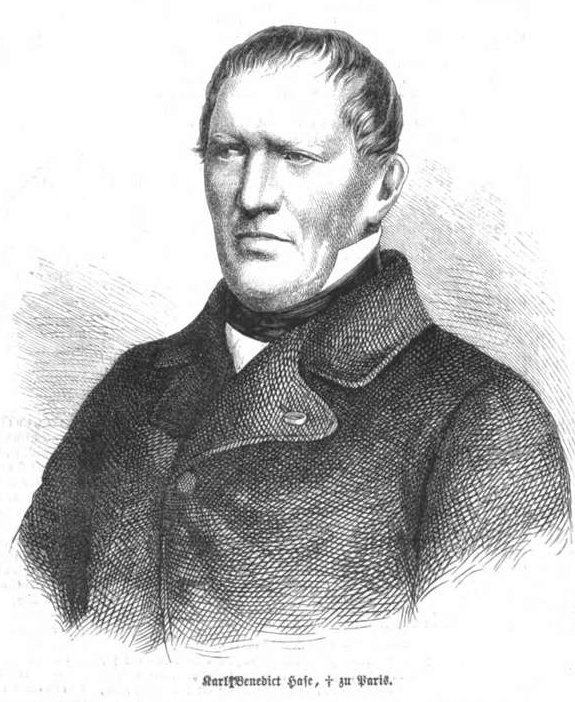 The philhellenic scene of the 1800s
Ancient Greek culture might have peaked over 2000 years ago but it has fascinated people ever since. From science to art to architecture, the ideas of Ancient Greece have always had a large influence on modern Europe, and this was particularly true at the beginning of the 19th century.
"Greece was on everyone's mind in the early 1800s," William explained. "The Greek revolution was happening and with it came a renewed fascination for the country and its history, a movement known as 'philhellenism', or 'love for Greek culture'."
One of the most prominent Philhellenes at that time was Karl Benedikt Hase. Born in Germany, Hase was a professor of Greek who spent much of his life and career in Paris, France. Hase was famous for his knowledge of the Greek language and culture, as well as his place at the centre of Paris' philhellenic movement. But he was infamous for something else: forging Greek manuscripts. In one well-known example, a Russian statesman wrote to Hase asking for historical Greek documents about Crimea, which Hase didn't have. "So he simply produced something he thought the Russian would be interested in," William explained. "And he happily took the money for it, too."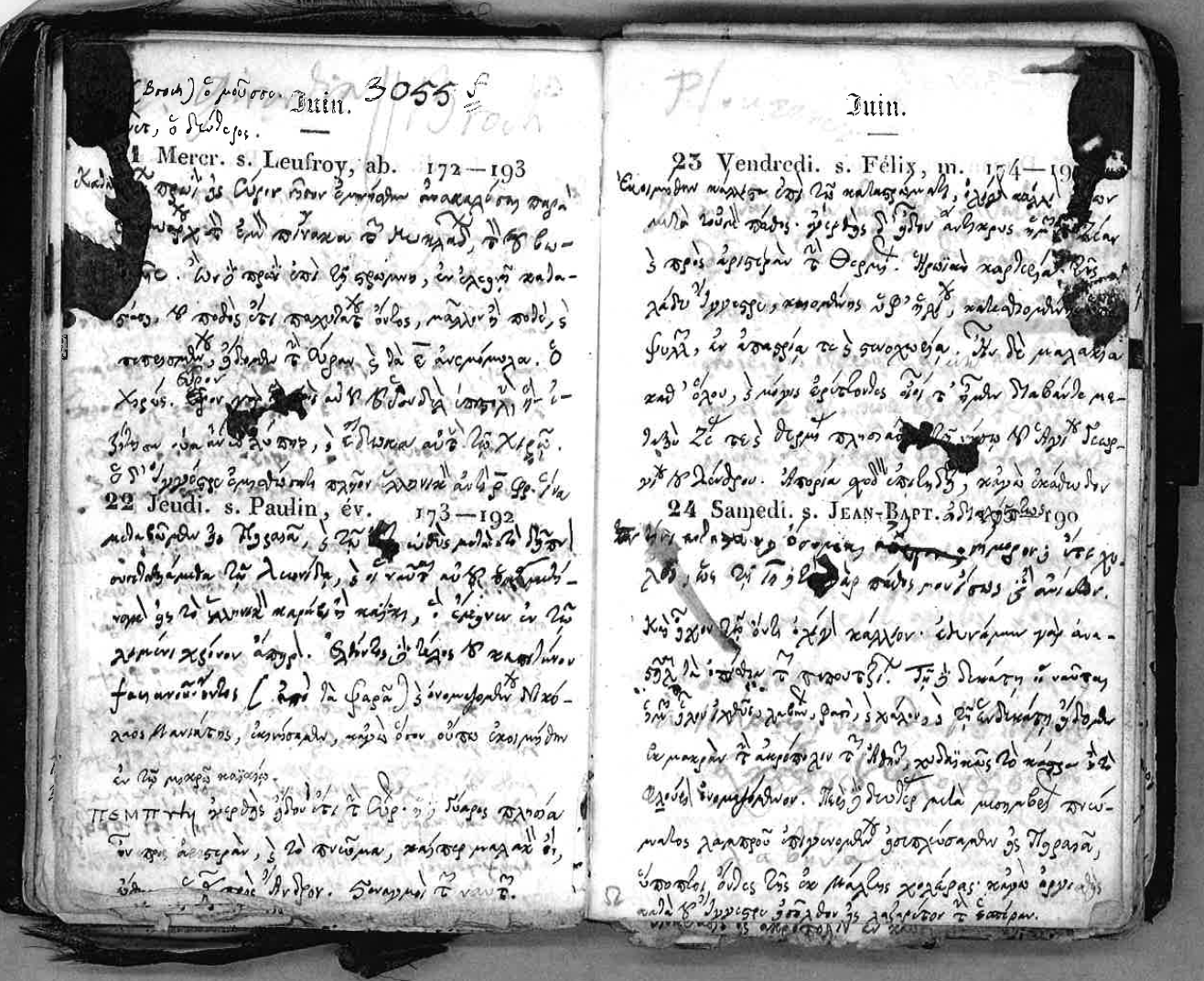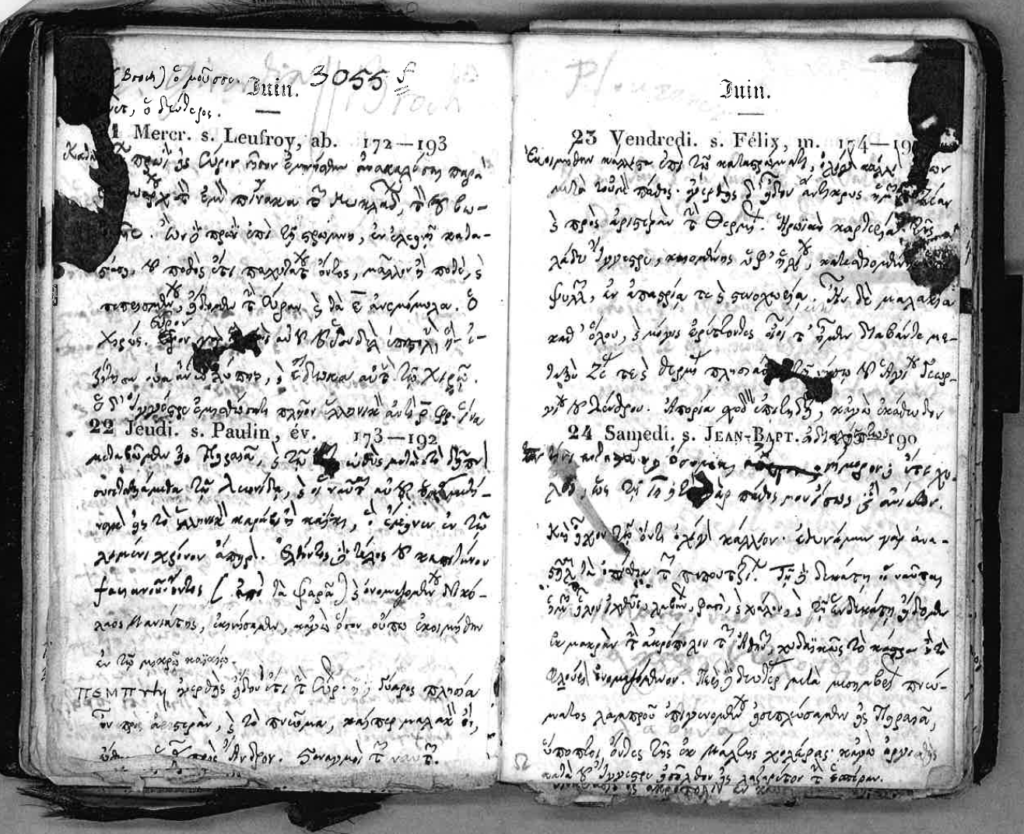 The search for Hase's diary
Researchers like William have known for a long time that Hase kept a secret diary. "Byzantine researchers in the 1970s were fascinated by this topic of Hase and his forgeries. And they knew he had a diary, but they couldn't find it," William explained. "So I thought I would give myself a chance at finding it instead."
Luckily for William, the researchers had left a good trail of clues. "They had described where they had already looked and it became clear that the diary was probably in one of three places: Paris, Lyon, or in the area of Weimar/Jena, in Germany." William set about trawling through the indexes of archives in all three cities, to see if there was anything that matched the description of Hase's diary. "In Weimar, there was a document listed as 'notebooks in Greek by Hase'. So I went to the archive to check and it was indeed Hase's secret diary." One of the biggest mysteries of philhellenism in the 19th century had just been solved.
"Transkribus is a huge benefit for us"
So why is this such a breakthrough? "There's a lot we can learn from Hase's diary," William explained. "We can learn more about Paris' large philhellenic network and what Hase thought about the other Philhellenes he knew. What's more, the diary should tell us about Hase's private life and his famous forgeries."
But before any discoveries can be made, Hase's Ancient Greek diary needs to be transcribed and digitised, which is no small undertaking. "The diary is a handwritten document and it's enormous. In total, there are about 2,500 pages to transcribe, all written in Hase's heavily abbreviated Greek hand." Living and working in Innsbruck, William was familiar with Transkribus and knew the advantages the software could bring to the project. "Transkribus' unique ability to be trained for this kind of very complex manuscript work is a huge benefit for us."
"Our first model was based on just 10 pages, and already the software was able to make some sensible transcriptions. Now after 70 pages, it's really getting there. I no longer sit there typing every word out, I just run the text through Transkribus, edit it and set this as the new Ground Truth. It's even learnt to transcribe all the diacritics — Ancient Greek's set of accents and linguistic markers — which is a lot faster than manually typing them in."
Publishing the manuscripts online
Another big benefit for William and his team is the tagging feature. "The ability to tag certain information inside Transkribus, like a person or a place, is really helpful. For example, one of the things we want to do is to cross reference the people Hase mentions in the diary with other historical sources from the time. If all the names in the diary are tagged, then we can simply search for a particular name and instantly see all the diary entries mentioning that person. And that saves us a lot of time."
The final step of the project will be to publish the diary online using the Read and Search platform so that people around the world can access Hase's diary. And this kind of collaboration can only benefit a project of this scale. "I'm an expert in Ancient Greek and its modern uses," William explained. "My chief contribution to this project is to read and transcribe the text, then to offer some preliminary studies. But publishing everything online means that experts in other fields can take advantage of the work I've done and take the research one step further. Or that's my hope, anyway!"
William's Transkribus Tip:
When you train a model in Transkribus, you have to prepare a series of Ground Truth texts. Normally, this involves transcribing some of your handwritten texts manually. However, we saved time by finding original handwritten manuscripts by Hase which had later been published, giving us a handwritten and a (very accurate) printed version of the same text. This meant we were able to feed Transkribus with a lot of very sure Ground Truth from the start, saving us time and effort.