Free
Get 500 Credits free on signup
Train your own models
Use all features
| Handwritten Pages | Printed Pages |
| --- | --- |
| 500 | 3000 |
Pages can be mixed and matched
Credits
10% Discount
Subscription
Can be bought once per month
Only applicable to one "collection"
Can be used with any "engine"
| Handwritten Pages | Printed Pages |
| --- | --- |
| 1 credit = 1 page | 1 credit = 6 pages |
Pages can be mixed and matched
Organisations
CUSTOM
Tailored to your needs
Custom pricing
Expert Assistance
Traning Data Creation & Model Training
All prices shown on this page include Austrian VAT of 20%.
Note: For organisations, the effective price may vary depending on whether you have an EU VAT number and in which country of the world you are located. The effective price will be shown to you during the ordering process.
Become a member and enjoy special discounts
As a member & co-owner of Transkribus you will enjoy many benefits
The amount of credits that is used for your text recognition depends on the material you want to process. With Transkribus you can process handwritten material but also printed material (newspapers, typewriter etc.). 
You can spend the credits on whatever combination you would like. You do not have to use all the credits on just one of the options. With the calculator on the right you can calculate how many credits you would need for your project.
Credits Calculator
Calculate how many credits you need
My Material is:
Everything but text recognition proper is free of charge in Transkribus.
Credit consumption is based on the Material (Handwritten or Printed)
We are a cooperative society, all funds go directly into maintaining and further developing the platform.
Frequently Asked Questions
Transkribus Scholarship Programme
The support of future scholars is one of our core values. Therefore, we offer the Transkribus studentship programme. You can get free credit packages for Transkribus handwritten text recognition for your project.
How to manage credits in Transkribus
Everything you need to know about the management of Credits in Transkribus. 
The credit manager
Credits can be managed with Transkribus Lite, directly in your browser. The credit manager in Transkribus lite gives you full control over your credits. You can check the amout of credits that you own, share credits to collections, see your transaction history and purchase new credit packages.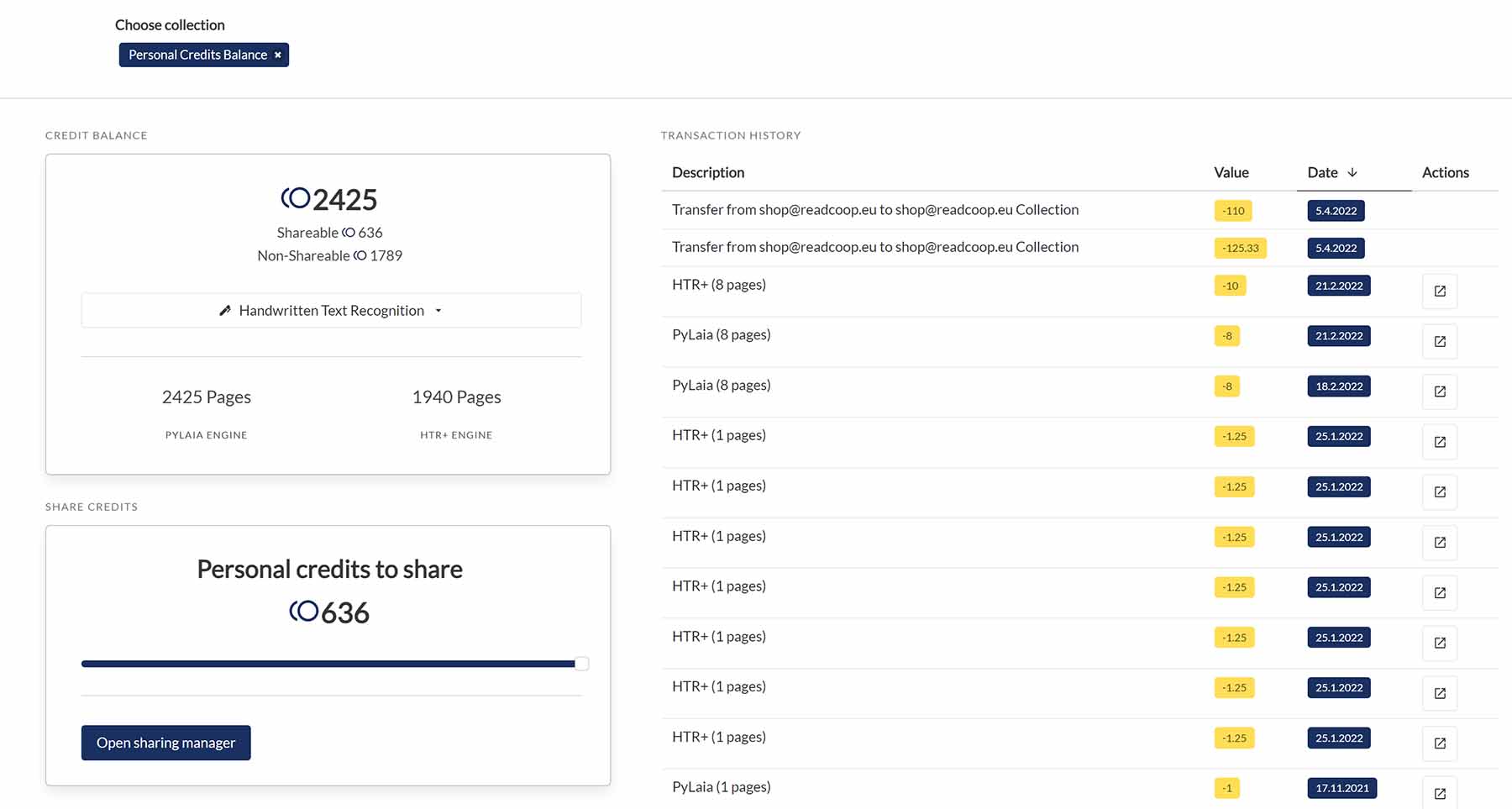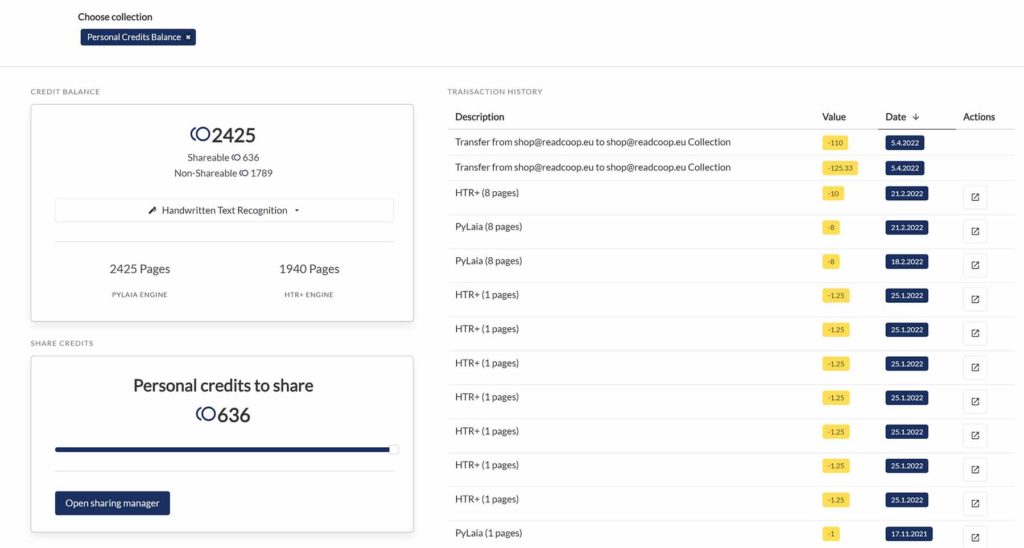 Sections of the credit manager
Balance selection
On the top of the credit manager you can select the credit balance you want to see. You cen either see your personal credit balance or the credit balance of collections you are a member of.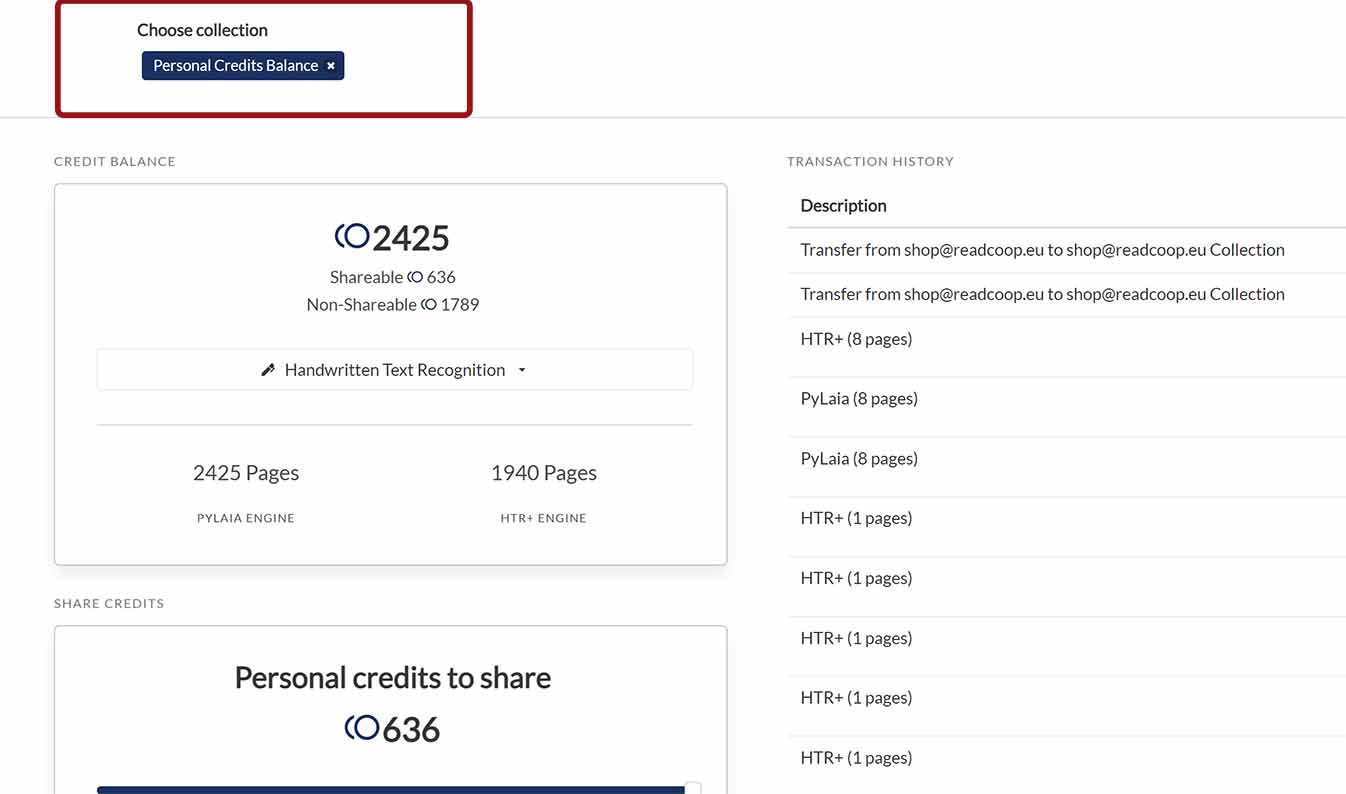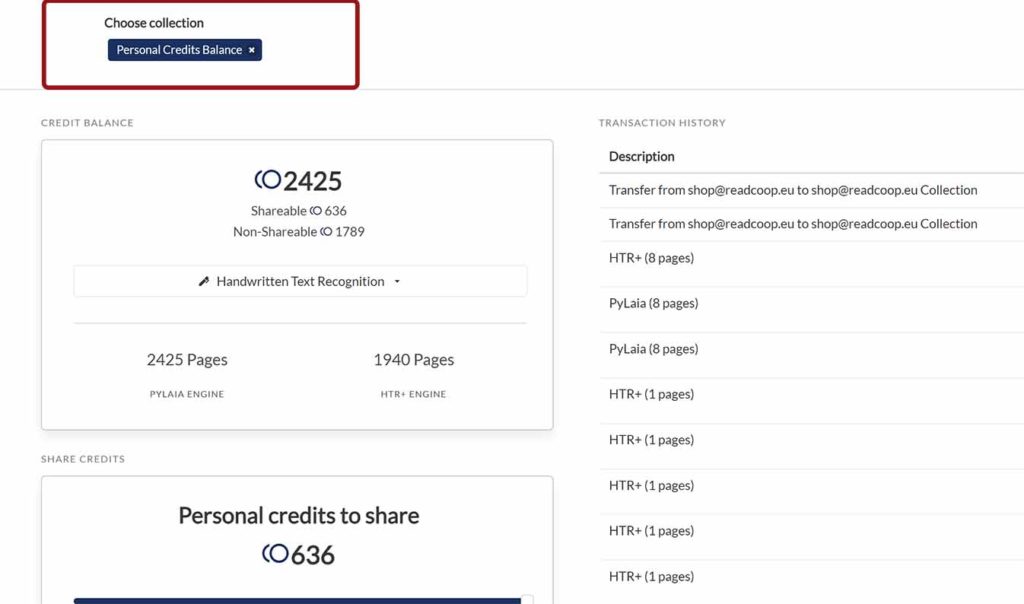 Credit balance
Based on the balance you selected, on the left you can see the overall credits balance i.e. the total of all credits that you have available in your personal or collection credit balance. You can See how many credits are shareable and non-shareable as well as how many pages you can process with the remaining credits (per engine and type of writing).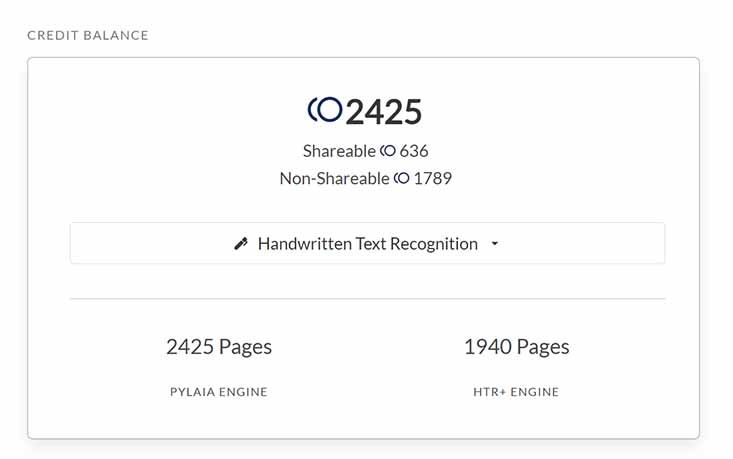 Transaction history
On the right you can see the transaction history of your personal or of a collection balance. Here you can see every transaction that added or deducted credits from your personal account balance or from the collection balance you are viewing. Furthermore you can return credits that you have shared with this collection to your personal account balance (but only those that you have shared with the collection).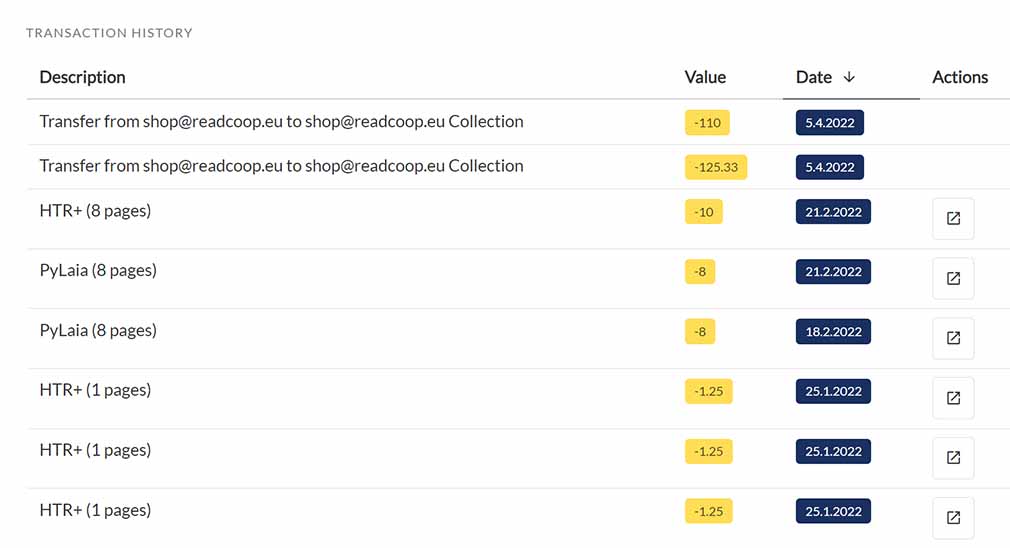 Share credits
Not all credits are sharable. With the packages "120" and "500", we offer more affordable but at the same time limited packages. They can only be bought once a month and cannot be shared. Larger packages come with full sharing functionality and do not have a monthly buying limit.
In case you have "shareable" credit packages, you can authorize other users to use them for recognition jobs.
Therefore, the users must be added to the respective collection with a role that allows them to start recognition jobs, e.g. "Transcriber" (see also How To Transcribe Documents with Transkribus on how to manage users in collections).
Sharing manager
The sharing manager lets you easily share personal credits that you have purchased with other collections. Once you have shared credits with a collection, every member of this collection can use these credits for text recognition jobs in the collection. In case you have shared credits and you want to take them back, just open the credit balance of the collection and return the credits to your personal balance with the slider above the transaction history.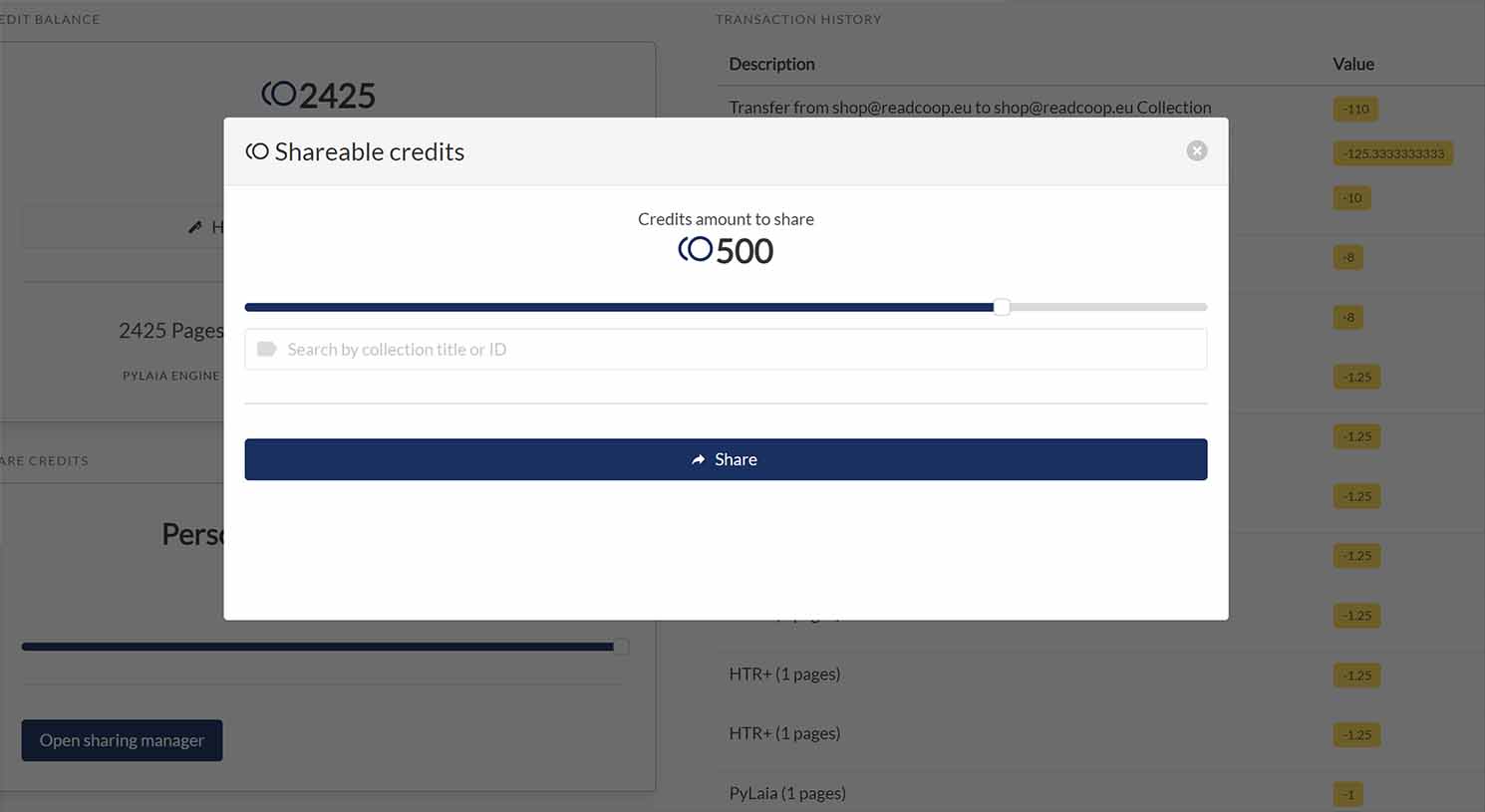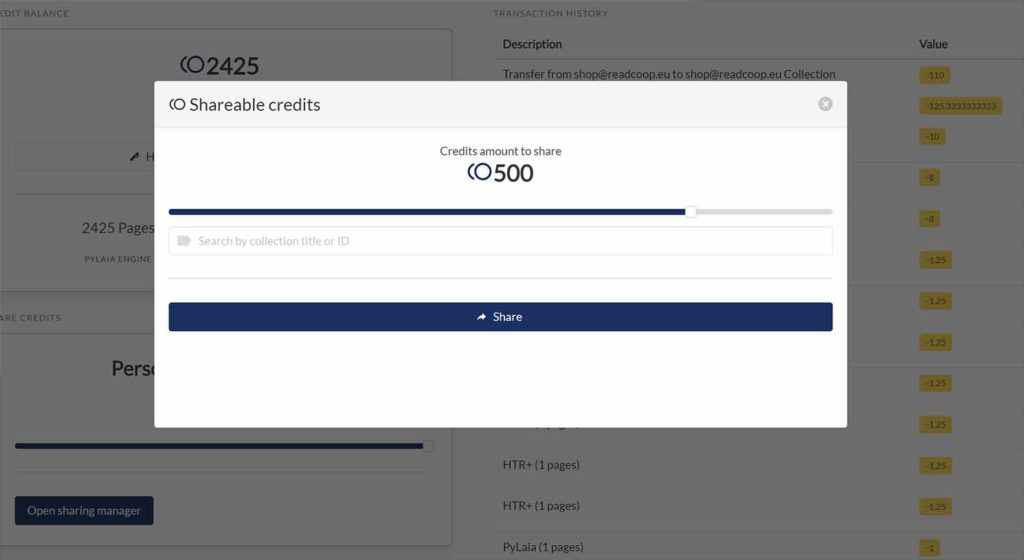 Order of Credit Package Consumption
The order in which credits are deducted from packages is as follows:
When a recognition job is started in a collection, credits assigend to this collection are always used first
If there are no credits assigned to the collection or the balance is 0, credits are deducted from the personal credit packages of the user that has started the recognition job
Note: Expiring credits are always used first within the respective level (collection or personal).